The two crowds at the COMMUNITY CENTER TODAY  were awesome and supportive.  Thank you for your attendance and your service.  We had a few tech issues for some who tried to post comments.  I apologize. I am somewhere high above Belvoir on a plane en route to San Diego via Minneapolis.  I was able to log in thanks to the GOGO internet on board this flight and resolve the issue.      Raffle will be extended 24 hrs until midnight Thursday to accommodate audience all day Thursday  till midnight!  Winner from the show gets a copy of  "I KILLED- TRUE ROAD STORIES from America's Top Comedians" and will be posted FRIDAY on this website.   To the soldiers, marines, sailors, airmen and civilians who attended today, Thank You.  I hope I added to your day and did not disappoint.  You took me to new heights with your service and laughter.   
 Above: Ft Belvoir medal, me doing what I love, me and my special brother Sean! Below are pics from today's presentations!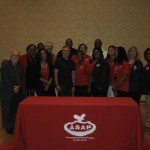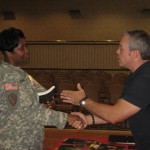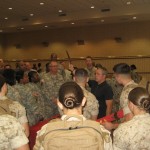 Left) The incredible ASAP team     Center) Colonel Mitchell   Right) The very special to me, post-show gathering and support from soldiers, marines, sailors and civilians.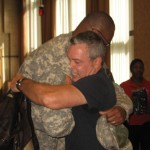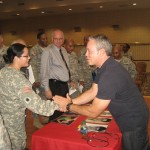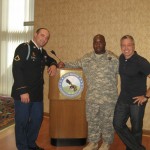 Left)  A sincere and heartfelt hug received from the base Chaplain who expressed his appreciation for my love and commitment to 'those who serve'.
Center) Expressing my appreciation in return.
Right)  Me with Natale and Lee, two warriors who serve us proud. 
Leave a comment here for show raffle. Personal messages to Bernie – click CONTACT and I will write you back personally.
[fbcomments]