I had a BLAST today with the sailors at  Naval Base Kitsap.  Your response was truly spectacular and made my job so enjoyable.  I appreciate the kindness and respect you gave, as I hope I in turn, expressed my appreciation for you.  I know many of you came off the ship to attend the training.  CMC Lynch, Chief Miller, PAC FLEET- and sailors- Thank you for hosting my "Happy hour" tour. 
Above left is my brother Sean (with his BIG COKE), Sister Debra in the middle, and brother Scott, on right.  I work in honor of my brother.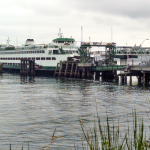 Kingston Ferry back to Seattle.
Leave a comment here for show raffle. Personal messages to Bernie – click CONTACT and I will write you back personally.  
*Naval Station Kitsap was created in 2004 by merging the former Naval Station Bremerton with Naval Submarine Base Bangor.  The Mission of Naval Base Kitsap is to serve as the home base for the Navy's fleet throughout West Puget Sound and to provide base operating services, including support for both surface ships and Fleet Ballistic Missile and other nuclear submarines having their home ports at Bremerton and Bangor. 
[fbcomments]