I must say, it is beautiful here at Ft Lee, VA! I am pumped up and ready to Rock and Roll. Thank you Ft Lee for hosting my Happy Hour Tour. I appreciate my freedom every day, that is only possible because of you amazing Soldiers that defend our Country proud. We salute you. Please come and say hello while I am here December 3, 2012 at 1000 & 1400 at the Green Auditorium, Army Logistics University. Come laugh….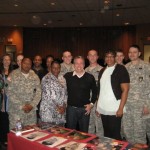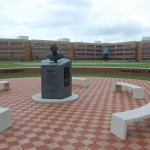 ALU photo courtesy of Albert Cruz
 It is impossible to return all Blog messages, however if you want a reply from me, click on the 'Contact' link on this site and write me privately. I personally return all those messages myself. Thank you for coming to the show! .
[fbcomments]