All of you Airmen make a difference here at Dover AFB in Delaware!   Thanks for coming to the two shows today, mandatory or not!  LOL   I still had a ball and want to thank the sponsors pictured below from SAPR and SAFETY who hosted my HAPPY HOUR Comedy with a Message Tour!  It was an honor to meet and greet you all after the shows and I hope you had a laugh and take the message to heart!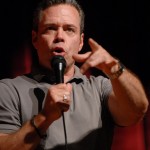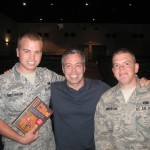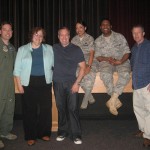 Me doing what I love, Airmen, and the SAPR and  Safety Teams!
Hit me here with a comment, but it will not post immediately. It will post shortly, so come back and you will see it. It is impossible to return all Blog messages, however if you want a reply from me, click on the 'Contact' link on this site and write me privately. I personally return all those messages myself. Facebook faithful you can hit me up at www.FaceBook.com/ComedianBernie ! Thank you for coming to the show!
Comments