Winner is LISTED BELOW in I KILLED SHOW WINNER POST!  I had a blast at Pope AFB and hope you incredible Airmen and civilians enjoyed the laughs and took the message to heart!   You men and women were Amazing today!  Thank you Col. Johnson, Col. Dunn, Chief Ackerman, Lt Col Irwin, Lt Bopp, and (SSgt Brian and Amanda Markavich for the amazing sound) .  I appreciated the turnout at the show and love each of you in uniform as well as all our civilian assets who make the mission run so smoothly!
My Brother Sean in the middle and me doing my thing!
Hit me here with a comment, but it will not post immediately. It will post shortly, so come back tomorrow and you will see it. It is impossible to return all Blog messages, however if you want a reply from me, click on the 'Contact' link on this site and write me privately. I personally return all those messages myself. Facebook faithful you can hit me up at www.FaceBook.com/ComedianBernie ! Thank you for coming to the show!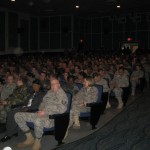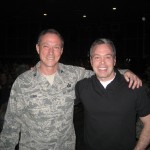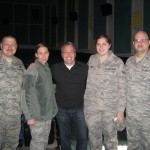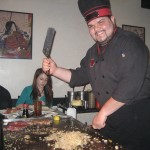 Hibachi Japanese Fayetteville Style!  TJ the Chef!
Comments