I am pumped up to be here in San Antonio, and had a blast today in the Theater for Wingman Day!  You Airmen and Civilians were amazing to me, and I cannot thank you enough.  No flu or headcold was going to keep from delivering the program today, and I hope you had many laughs and also absorbed the message about Safe and Healthy decisions and choices!  I want to thank our Safety Dept personally, for bringing my Tour to Randolph! I love the Airmen of the 12th Flying Training Wing!  We owe our Freedom to YOU!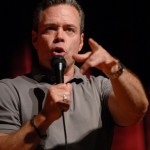 Me doing my thing, above, and my brother Sean to the right!
Hit me here with a comment, but it will not post immediately. It will post shortly, so come back and you will see it. It is impossible to return all Blog messages, however if you want a reply from me, click on the 'Contact' link on this site and write me privately. I personally return all those messages myself. Facebook faithful you can hit me up at www.FaceBook.com/ComedianBernie ! Thank you for coming to the show! Pics from show coming soon.
Comments