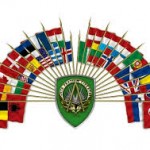 I'm happy to be here at SHAPE! Supreme Headquarters Allied Powers Europe (SHAPE) is the central command of NATO Military  forces. Since 1967 it has been located at Casteau, north of the Belgian City of Mons, but it had previously been located, from 1953, at Fontainbleau, France. From 1951 to 2003, SHAPE was the headquarters of operational forces in the European theatre (Allied Command Europe, ACE), but since 2003 it has been the headquarters of Allied Command Operations (ACO), controlling all allied operations worldwide. It is an honor to have you host my "Happy Hour" program.  Please come by the Alliance Theater on Tuesday, April 22 at 0930 hrs.  See you there!
 Above: Me doing what I love.  Me and my brother Sean! Two shots from today of  some of the awesome audience!
Leave a comment here for show raffle. Personal messages to Bernie – click CONTACT and I will write you back personally.  
[fbcomments]