Photos courtesy of Chrystal Smith, Army PA Specialist 
I was so excited to be at USAG Wiesbaden today.  Thank you for hosting my "Happy Hour "  Comedy 'With a Message' Tour.  The U.S. Army Garrison Wiesbaden serves the men, women and children who live and work in the Wiesbaden military community. Located 20 minutes away from Frankfurt International Airport, the Wiesbaden military community is host to several tenant units, including: V Corps, 5th Signal Command, 66th Military Intelligence Brigade, 421st Multifunctional Medical Battalion, 52nd Aviation Regiment.  Thank you ASAP, Col Karstens, CSM Rocco and all the ACS, and Prevention teams who made this such an outstanding event.  I have never felt so much gratitude and appreciation by those who serve.  I hope I put a smile on your face and a touch of reflection in your hearts.  You have deeply touched mine.  You are all strong, determined and resilient.  You inspire me! 
Leave a comment here for show raffle. Personal messages to Bernie – click CONTACT and I will write you back personally.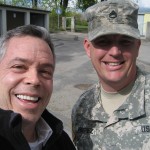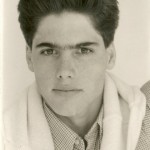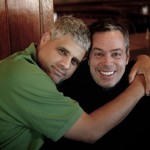 Left: SSgt Ronspiez- thanks for ride to Ansbach, Center- my brother Sean, Right: My brother Scott, the purpose, honor & motivation of my tour !
[fbcomments]