I had a great time at NSA Charleston, SC today, bringing the 'HAPPY HOUR'  COMEDY 'With a Message' tour to the Bowman Center.  Almost 500 Sailors and one cool marine packed the venue today, taking in some entertainment and a story about a guy who liked to party, but let it get out of hand.  Planning is the new way of the future!   I really enjoyed you great students, knowing how hard you study, the sailors in blue, the one marine in Khaki.  To the Chiefs who led the way today, to Santos …Thank you NSA Charleston.  YOU are our future.  YOU are our hope.  You are tomorrow's leaders of our nation!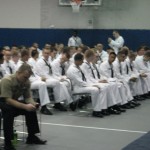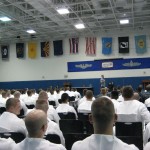 Me doing what I love with our U.S Military!
Thank you for your comments. It is impossible to return all Blog comments, however if you want a reply from me, click on the 'Contact' link on this site and write me privately. I personally return all those messages myself. Facebook faithful you can hit me up atwww.FaceBook.com/ComedianBernie ! Thank you for coming to the show! Pics from show coming soon.
[fbcomments]