I had a blast in the Sheridan Theater Friday . Thank you Jay, Robert and Stephanie for hosting my show, and more so to the great soldiers who came to fill the seats.  I had a great laugh watching the push-up competition from back stage.  You soldiers are the real deal. I do not take my freedom for Granted!  thank you for your selfless work and training.  
Sgt Roberto Sandifer- contact Jamie@comedyisthecure.com to claim your show prize- a copy of I KILLED- True Road Stories from America's Top Comedians!  Congratulations!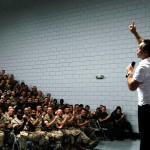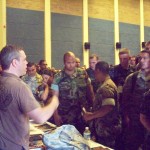 It is impossible to return all Blog messages, however if you want a reply from me, click on the 'Contact' link on this site and write me privately. I personally return all those messages myself. Facebook faithful you can hit me up at www.FaceBook.com/ComedianBernie ! Thank you for coming to the show! .
[fbcomments]