Fort Jackson- Wow, that was some three days!  I had the privilege and honor of entertaining the training 12,000 soldiers and civilians at the incredible Soloman Center!   Sean OBrian, Don, Don, Ron, Rob, Mary and Colonel Sanderson are such wonderful hosts and received incredible support from Drill Sgts, MSgts, Colonels and leaders across the board! You men and women training to defend our nation from harm, gave me chills as I walked out of my billeting and heard your Marching Chants almost one mile away, as thousands of you marched in sync and perfect unison to the venue to see my HAPPY HOUR Safety Training Program.  I was so moved and inspired be each of you, your commitment, your bravery, your raising of your right hand to say "YES, I AM IN to DEFEND FREEDOM".  I could not have dreamed of a better way to end my 2010 tour, than in front of each of you.  Have a safe and loving holiday, and keep the focus.  HONOR, INTEGRITY, RESPECT!   Hoorah!  Pics from training posting here at 1400 hrs EST today!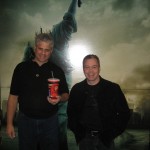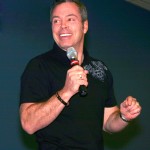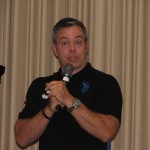 My Brother Sean and I! Me doing what I love to do!
Thank you for your comments.  It is impossible to return all Blog comments, however if you want a reply from me, click on the 'Contact' link on this site and write me privately. I personally return all those messages myself. Facebook faithful you can hit me up at www.FaceBook.com/ComedianBernie ! Thank you for coming to the show! Pics from show coming soon.
Comments