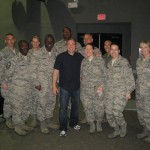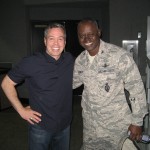 The Airmen and Col. Lovette!
I am truly excited to return to Patrick AFB to deliver the HAPPY HOUR Comedy with a 'Message' Program to the Airmen and Civilians.  We will rock it out with 30 minutes of comedy and then deliver a 'Training and Prevention' program in hopes of inspiring all of us to be fit and ready for mission success!  I look forward to seeing General Bolton again and meeting Sylvia Love, Ernie Gray and the true Warriors of our military- the Wingmen!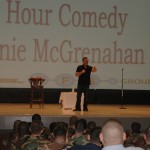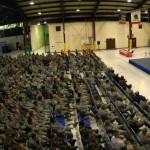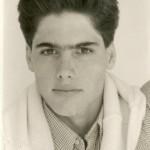 The above shots are me performing HAPPY HOUR live at various installations and honoring the memory of my brother Scott(Above-Right)
Hit me here with a comment, but it will not post immediately. It will post shortly, so come back and you will see it. It is impossible to return all Blog messages, however if you want a reply from me, click on the 'Contact' link on this site and write me privately.  I personally return all those messages myself.  Facebook faithful you can hit me up at www.FaceBook.com/ComedianBernie ! Thank you for coming to the show!  Pics from show coming soon.
Comments